Laser-eye surgery: the answer for professional athletes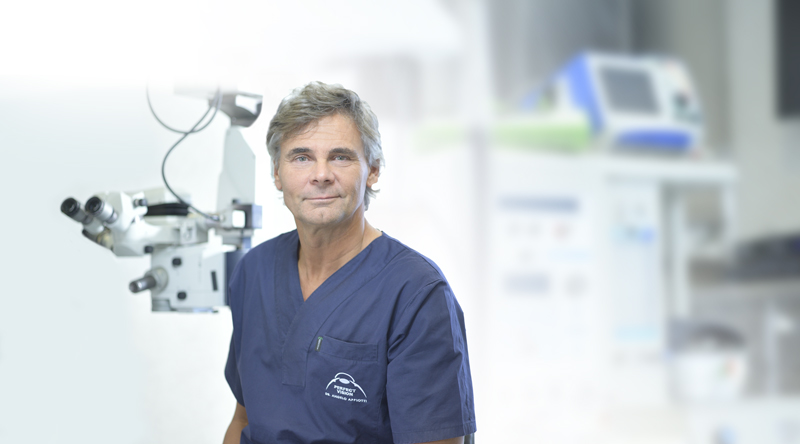 When we watch a Rugby match on tv what catches our eye is the incredible strength shown by a player whilst tackling his opponent or the amazing speed with which he passes through enemy lines to score a try.
When we see a goalkeeper save a penalty in a decisive game we're amazed by his cat-like reactions with which he lunges and parries the ball inches away from the goal line.
When we see a volley ball player slam dunk the ball over the net we're surprised by his ability to jump so high as if he were able to fly.
Even more in skiing, where the "sight-speed-athleticism" ratio is impressive when it comes to taking on the poles, in this activity sudden changes of inclination and changes of luminosity require great muscular and visual reactivity, especially in case of mistakes and sub sequential recoveries.
No sport is as trying as skiing when it comes split -second reactivity.
All these incredible acts of athleticism even though they may appear so different from one another have in common one thing; an incredible coordination capacity.
In fact, it's this high level of coordination that makes the rugby player able to duck at the right time and tie his opponent's legs to bring him down. It's always this coordination capacity that enables the goalkeeper to lunge towards the ball and parry it at the last possible second, and again it's this coordination capacity that allows a volleyball player to jump and perfectly dunk the ball over the net.
Coordination is the basis of all athletic deeds, and eye sight is the basis of coordination.
Considering all the above it goes without saying how much vision deficits have a negative effect on athletic performance. Even small deficits can give huge problems to athletes, wherefore they cannot capitalize on their full potential.
Nowadays athletes use contact lenses to compensate any refractive defect, but lenses have a huge array of disadvantages and often cannot completely correct the visual deficiencies. The most efficient solution to this kind of problem is laser-surgery that has always shown to be the safest and most effective way to correct visual deficiencies.
To this end I have developed a therapeutic protocol for sportsmen aimed to improve athletic performances and restore a high-level coordination capacity so to tap into the individual's full potential. This protocol was born on one hand thanks to my 30-plus-years' experience in refractive surgery and on the other thanks to my relationship with professional athletes that over the years have come to me to treat and cure their refractive deficits.
The Protocol is divided into two phases
Phase 1
Customizing the surgery with the appropriate technique taking into account the different characteristics and needs of the single individual. Thanks to the help of the integrated platform called "PSP" (Personal Sportsman Profile) we're able to understand which will be the objectives of surgery, and thanks to my 30-plus-years' experience I can decide the best technique to use in order to achieve a visual result that is always greater than 10/10 and, most importantly, a stable and precise vision with every change of the light conditions.
Phase 2
This phase is just as fundamental as the first one to achieve optimal results. This phase is characterized by the use of Neuro-visual training. Neuro-visual training is perfected for each and every athlete by professional technicians, in order to improve the ocular-manual and podalic coordination by reducing the visual-motor reaction time, improving the muscle activation time and allowing to achieve a better-quality performance. The aim of these exercises is to speed the recovery process and highlighting one's athletic capacities with an increase of fluidity of the athletic gesture and an improvement of coordination.
During the years I've had the pleasure to work with great athletes and nothing gives me more pleasure than knowing that in some way through laser-surgery I might have helped them achieve victories and fulfilments.
Book an appointment

Dr. Appiotti works in the Vista Vision surgical excellence clinics in Milan and Verona. If you want to book a visit to assess your suitability for laser treatment of your visual impairment, contact the toll-free number