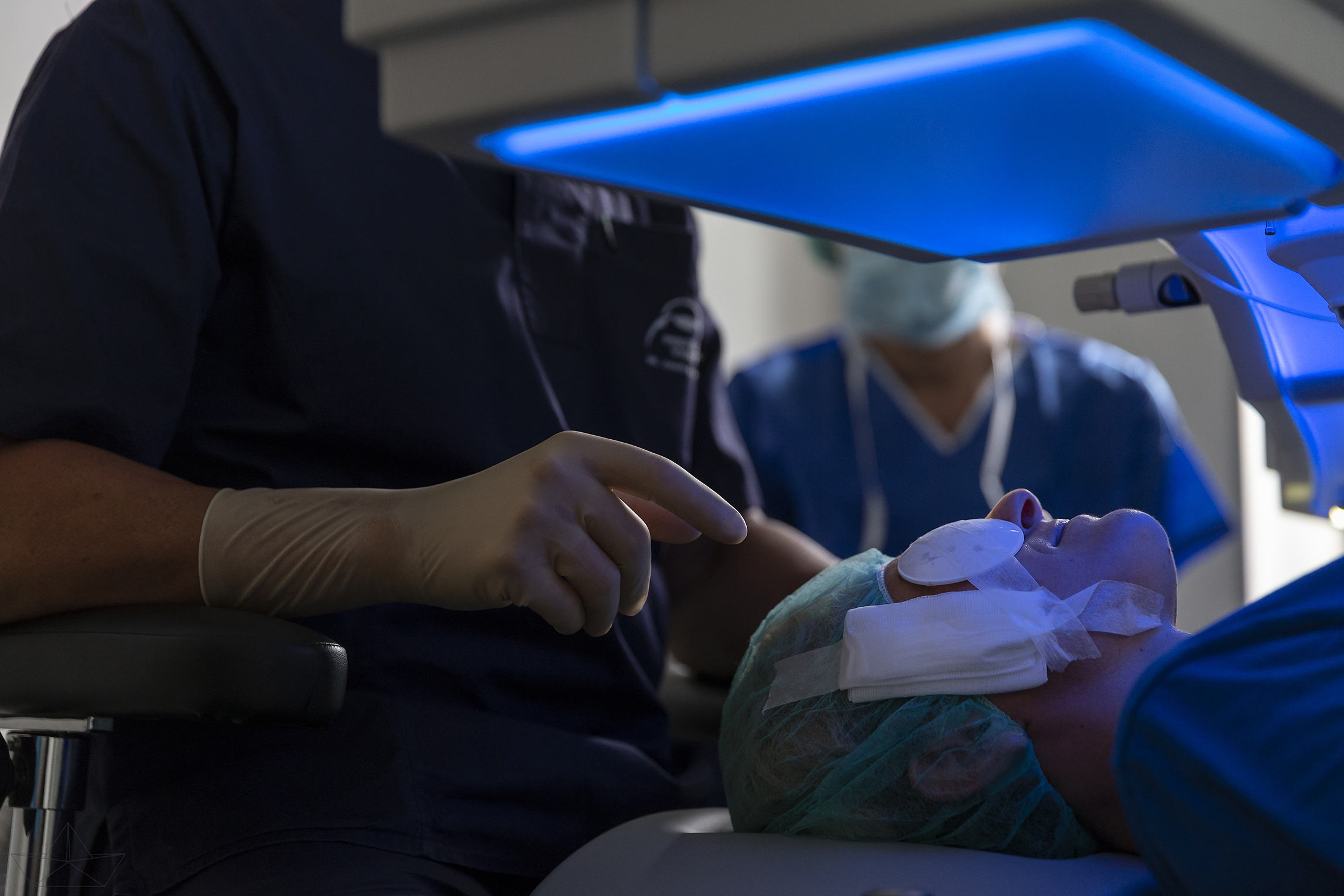 ReLEx SMILE
Smile at SMILE! The revolutionary third generation of laser vision correction: a single painless laser.
The Future of Vision Correction Is Now
ReLEx SMILE (Small Incision Lenticule Extraction) is at the forefront of technological innovation in refractive surgery as it is based on a single laser treatment. Unlike FemtoLASIK and PRK, ReLEx SMILE does not require the creation of a corneal flap or surface ablation respectively. Thanks to this fast non-invasive procedure based on a single Zeiss VisuMax® painless femtosecond laser, the surgeon is able to make one or two small lateral incisions of 2 to 4 mm (0.08″ to 0.16″) in less than 28 seconds. The surgeon then extracts a tiny disc of tissue of up to 7 mm (0.27″), known as lenticule, which has been sculpted by the laser to the desired correction. The procedure takes less than 2 minutes per eye and relieves the stress associated with switching lasers. No injections are required. Local anesthetic eye drops numb the eyes.

ReLEx SMILE is recommended for the treatment of myopia and myopic astigmatism. It is a safe and effective procedure that guarantees rapid recovery.
ReLEx SMILE Procedure Steps
Step 1
Lenticule Creation
The VisuMax® femtosecond laser creates the refractive lenticule (a tiny disc of tissue) in the cornea and then makes a small incision of less than 3 mm (0.12″), all in a single surgical step
Step 2
Lenticule Extraction
The lenticule is removed through the less than 3 mm-long (0.12″) incision made at the end of the first step, with minimum impact on the corneal biomechanics
Step 3
Error Correction
Removing the lenticule reshapes the cornea and allows for the desired vision correction
The Best Candidate
22 years old and above
Myopia between 1.00 to -10.00 diopters
Astigmatism up to -5.00 diopters
Stable eyeglass prescription in the 12 months prior to surgery
Corneal topography, pachymetry and pupillometry within the reference range
Good overall eye health and no history of previous eye diseases
Not pregnant
The Benefits of ReLEx SMILE
Shorter procedure time with greater patient comfort
Can be performed on thin or flat corneas and on deep-set eyes
Excellent postoperative corneal tensile strength
No problem with any sport including contact sports or those inducing intraocular pressure increases
Rare risk of dry eye after surgery
Excellent vision correction outcomes
Rapid recovery time
No postoperative pain or discomfort
No corneal opacities
Visual Recovery
No intraoperative or postoperative pain
Visual recovery on the day after surgery (patients can resume normal activities with no mechanical, traumatic or visual restrictions)
Quality of vision keeps improving in the days following surgery
Potential Risks and Complications of ReLEx SMILE
ReLEx SMILE is the least invasive laser eye surgery procedure of all. Although innovative technology reduces the risk of complications, under and/or overcorrection may still occur as in all other procedures.
Some patients mention a postoperative foreign body sensation, which usually goes away shortly after surgery.
This is a relatively new technology (7-year follow-up) and no long-term studies exist. However, the procedure is practically risk-free and produces excellent outcomes when it is carried out by an experienced laser eye surgeon with manual skills honed in a wide range of laser treatments at state-of-the-art clinics with the highest quality standards and thorough control procedures.
Make an appointment today
Dr. Appiotti performs laser eye surgery in state-of-the-art eye clinics in Milan or Verona. To make an appointment and determine whether you are a good candidate for the laser treatment available for your vision problem, please contact us by email or phone