When Relex SMILE can successfully solve myopic anisometropia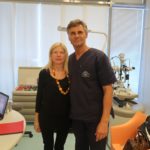 I have often outlined in my blog the ReLEx SMILE advantages over other refractive surgery techniques. More than ever this happened to be true with Annalisa, one of my latest patients.
Annalisa a professional employee aged 49, suffered from a complex visual impairment in both eyes: a high compound myopic astigmatism (right eye -8.50 of myopia and -3.50 of astigmatism; left eye -6.50 of myopia and -4 of astigmatism). In addition to the marked anisometropia (difference of refractive capacity both eyes RE> LE) she also developed presbyopia a physiological age-related visual impairment.
Using different contact lens types over the years resulted somewhat unsuccessful for Annalisa who finally became intolerant to. Glasses did not serve the purpose too because they were unsatisfactory for the vision from far or close.
Clearly, the lack of a complete correction had accentuated the asthenic disorders (headaches, visual fading, nausea, dizziness) and to these were postural problems.
Vision and posture are in fact linked: when the first is influenced by a bad posture and starts to blur, the posture gets worse through an effort to compensate for an incorrect position at all distances.
After numerous and targeted investigations I recommend to the patient to firstly undergo ReLEX SMILE surgery to correct her visual impairment, the two eye differences (anisometropia), and finally "reset" her visual system. Secondly she would have to follow postoperative postural exercises provided by a specialized osteopath and a Pilate's trainer to improve and keep stability to her posture.
The result of the ReLEx SMILE was above any expectation: 7 days after surgery the patient had already reached a natural binocular visus of 10/10 with a slight residual astigmatism of 0.50 in the left eye also confirmed by the 30 days follow up.
Following my post operative advice (osteopath and Pilates) Annalisa did achieve major benefits and overcome and solve all symptoms she did suffered before such as back pain headache nausea dizziness, visual and physical fatigue, lack of energy.
Useless to say how much this treatment has been important for Annalisa who not only obtained a better vision, greater confidence and energy but also improved productivity at work.
Refractive surgery is certainly a particularly complex branch of medicine and in practicing this type of surgery one has to deal with many difficult cases, with this said a real professional has to always try to give the best effort, sometimes evaluating an integrated approach with other medical disciplines to look for the best result for the patient over time.
Book an appointment

Dr. Appiotti works in the Vista Vision surgical excellence clinics in Milan and Verona. If you want to book a visit to assess your suitability for laser treatment of your visual impairment, contact the toll-free number