When ReLex SMILE can change your life: Dorin's story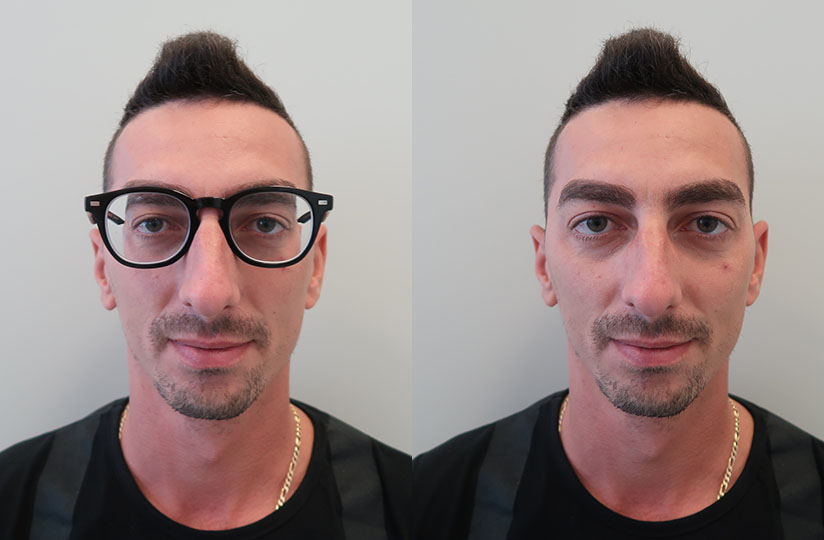 Laser eye-surgery is often considered an elitist type of medical treatment reserved for those who out of pure aesthetics motivations seek to get rid of their eyeglasses. From my experience, however, this interpretation has always seemed too superficial and so very far from the truth. A large portion of mf my work in fact is to find ways to help those who, for real necessity, need to regain complete vision acuity.
Not only professional athletes and celebrities need good eyesight, anyone who suffers from important refractive disorders can benefit enormously from laser-eye surgery whether it might influence their quality of life or work performance.
There are also cases where obtaining proper vision is not a simple need, It's an absolute necessity.
This is the case when it comes to Dorin, a young Romanian of 30, who due to his refractive disorders risked losing everything.
Dorin grew of in Romania and since his childhood has suffered from important refractive disorders, and as often happens with children with this kind of issue he developed a condition known as amblyopia (a.k.a. lazy-eye) with deteriorating consequences to his eye-sight. Unlike fellow children with the same issue who grew up in Italy or richer countries, Dorin did not have access to ophthalmologic or orthotic check-ups. His condition therefore was not treated as it should have, making matters worse he was bound to wear lenses that were not suitable for his problem. A condition that could have easily been treated developed into an issue that made his refractive disorders worsen.
Dorin is not perturbed by the situation, believing in a brighter future in Italy he decides to move and finds himself a job. At this point the real troubles start, in fact his new job requires him to drive transport vehicles and due to his refractive disorders he can't renew his driving licence, Dorian is at risk of getting fired.
Being a smart young man, he doesn't let the situation put him down, he does his research on the internet and decides to contact me.
During his first medical examination I find that his eye-sight is of 4/10 in his right eye (20/50 according to the international Snellen chart) and 6/10 (20/35) in his left eye. Due to amblyopia in his right eye his case was not easy to treat from a surgical perspective, but after many investigations specifically aimed at his condition I find that the best treatment for his situation is the ReLex SMILE technique. This treatment would not only help him gain a better quality of vision and life, but it could help him get his driving license back.
The operation is a success considering the situation; In his right eye (the eye suffering from amblyopia) his vision is of 7/10 (20/25 international Snellen chart) with 1 dioptre of astigmatism, and his left eye gains perfect vision. Not completely satisfied with the result I convince Dorin to undergo Visual Training (a technique that stimulates vision gain after the treatment) and as it has happened before with athletes and people affected with macular disorders after only 30 days of Visual training Dorin obtains a net gain to his vision. His vision acuity in the right eye goes up to 8-9/10 (20/20 according to the international Snellen chart) and his left eye has perfect vision.
Useless to say how much this treatment has been important for Dorin who not only obtained a better vision and confidence but has also succeeded in renewing his driver's licence and consequentially keeping his job.
Refractive surgery is surly a particularly complex branch of medicine and in practising this type of surgery one has to deal with many difficult cases, with this said a real professional has to always try to give the best effort, for at times this job represents the last hope for those in need.
Book an appointment

Dr. Appiotti works in the Vista Vision surgical excellence clinics in Milan and Verona. If you want to book a visit to assess your suitability for laser treatment of your visual impairment, contact the toll-free number