Why I chose ReLEX SMILE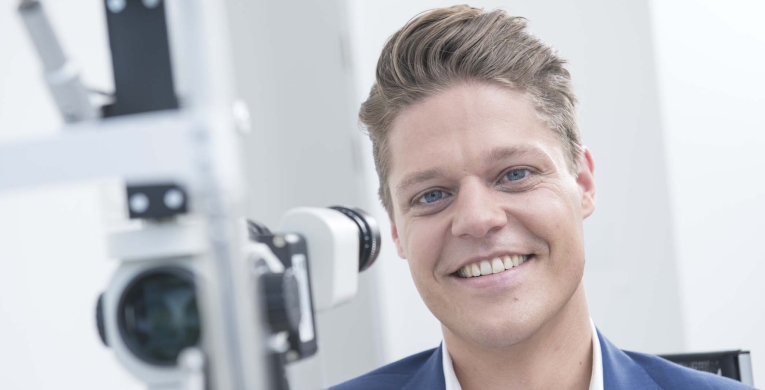 The experience of a renowned Austrian eye surgeon.
Despite being an ideal candidate for PRK, Dr. Martin Dirisamer, well-known eye surgeon from Linz (Austria), chose to undergo SMILE surgery for the advantages this new refractive surgery technique had to offer. The ReLEX SMILE technique allows for better corneal structural integrity, faster visual recovery compared with PRK in the first 24 hours following surgery and more predictable results in patients suffering from severe myopia.
My story: how I got rid of myopia and astigmatism.
Growing up, I always needed either glasses or contact lenses. This dependency alone should be enough to understand the negative impact myopia and astigmatism have on your everyday life, especially when you are young. Not to mention all the times glasses wearers are tempted to throw them out the window, no matter how fashionable or expensive they might have been: they are not worth the agony of waking up with red, burning eyes for having inadvertently slept with contacts on, or playing sports with Coke-bottle glasses or the constant fear of losing a contact at any time.
During my last years at university, my myopia finally stabilised and I began to think seriously about laser refractive surgery. Then, when I was specialising in ophthalmology and starting my career as an eye doctor, I performed a number of different anterior segment surgeries. Moreover, I often dealt with LASIK and PRK refractive surgery, therefore I was quite familiar with cornea surgery. Then, two years ago, something finally convinced me that it was time for me to get rid of glasses and contact lenses for good.
A colleague of mine, a surgeon at a trauma and reconstructive surgery department in Austria, came to us for advice. Despite being well acquainted with contact lenses and using them every day, during one of his night shifts he had forgotten to remove his contacts. Over the next few days, one of his eyes became increasingly red and painful. Despite intensive topical antibiotic treatment for weeks, there was no improvement. We diagnosed him with Acanthamoeba keratitis and had to perform keratoplasty (corneal transplant surgery) to save his eye, but it was already too late: his eyesight was irreparably damaged, he suffered from searing pain, and feared he would never perform surgery again with only one seeing eye.
This is when I realised this could have happened to me!
After witnessing the nightmare my colleague had to endure, I opted for ReLEX SMILE, a new, minimally invasive laser refractive surgery procedure compared with PRK, even though I would have fallen within the safety range for the procedure having -8.5 dioptres in my left eye. The surgery was a total success: after my operation, my residual stromal thickness was good (about 270μm in each eye): the thicker the cornea is, the less likely it will be for problems to arise, and since this technique does not create any corneal "flap", a higher biomechanical stability is anticipated, with reduced side effects for future traumas. I opted for this minimally invasive technique both as a patient, given the reduced risk of infections, and as a surgeon, since this type of surgery is quick and easy to perform. In our clinic, ReLEx SMILE has delivered great results with almost no re-treatments (below 1%) being necessary so far.
Source: Ocular Surgery News U.S. Edition, December 10, 2015 Martin Dirisamer, MD, PhD, FEBO
Book an appointment

Dr. Appiotti works in the Vista Vision surgical excellence clinics in Milan and Verona. If you want to book a visit to assess your suitability for laser treatment of your visual impairment, contact the toll-free number